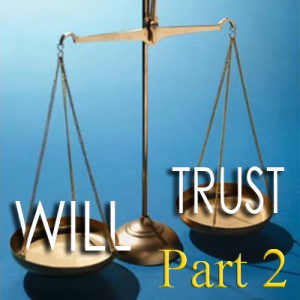 In the Difference Between Will and Trust – Part 1 we took a look at wills and how they provide a way for you to share your wishes, distribute property to beneficiaries, and name an executor and/or guardian for minor children. We also touched on probate and how that process of validating a will can be costly and take significant time. What we did not get into was just how LONG and arduous the probate process can be. If you are really curious about probate, you can read more here.
Difference Between Will and Trust Continued
As we continue to look at the difference between will and trust, there is much to learn. As I mentioned in Part 1, even a simple will can be a sticky wicket, so please, reach out to a trust and estate specialist. For your peace of mind, the well-being of your estate and the ease of its administration, please make sure that your docs hold water before you assume they do. Better yet, save the aggravation and potential heart-ache of loved ones after you are gone and have a trust and estate attorney draft them for you in the first place. It's YOUR money – Let's make sure it goes where you want it to!
Consider this a primer on the "difference between will and trust" and go from there.
Difference Between Will and Trust – The Trust
A trust is a legal document that assigns a trustee, which you name, to administer your estate. In a trust you can specify exactly how and when your assets will be distributed to your beneficiaries. A trust does not generally need to go through the intense probate process the way a will does; a key difference between will and trust. As a result, you save the court fees related to probate and those on the receiving end of your generosity see their inheritance faster.
As far as trusts go, you may have wondered about the differences between a revocable living trust and irrevocable trust. A revocable living trust may be changed, keeps the trust assets available to you during your lifetime and establishes a plan for the distribution of the assets when the time comes. This, in contrast to an irrevocable trust, which essentially terminates your control of the assets contained within it; even during your lifetime. It is important to note that a revocable living trust generally becomes irrevocable in the event of your incapacity or death. Check with your attorney for specifics.
When is it Time for a Trust?
When considering the difference between a will and trust, know that a trust of some type is especially important when you have substantial assets, when you are married, when there are children from multiple marriages, feuding siblings, power struggles within a family, and when your specific wishes regarding your assets might raise a few eyebrows, hurt feelings or surprise family members. Clarify it all NOW!
Think your kids will blow through their inheritance? Set up a "monetary drip-irrigation" of sorts so their inheritance is distributed in smaller portions over time. Remember too, that a trust is typically protected from court challenges and unlike a will, which goes through probate and becomes a matter of public record; a trust can help keep the details of your estate private.
Each situation is different. Please check with a specialist in your local area! And check back on February 10, 2015 for the Difference Between Will and Trust – Part 3
If you live in San Jose, Peninsula or South Bay Area, feel free to be in touch! I am simply a phone call or email away! You are welcome to print this Free 30 Minute Legal Consultation and use it to get some of your initial questions answered at no charge. I look forward to hearing from you.
Diane M. Brown, Esq.
Working every day to keep my clients out of court!
It's your money… Let's keep it that way!
Call 408-364-1234
This blog contains general information and is not meant to apply to a specific situation. Please seek advice of counsel before proceeding as each case is unique.